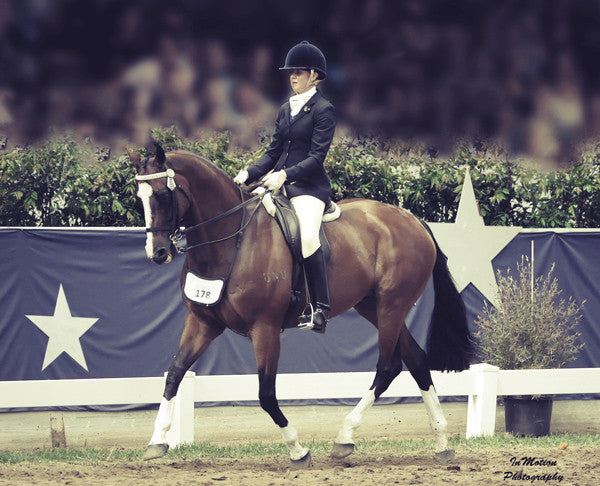 Lisa is from Delaneys Creek, QLD located in the beautiful Sunshine Coast Hinterland. She commenced riding at the age of 5 yr old when given a station bred quarter horse cross, by her uncle – a pet her parents thought was going to stay out west on the cattle property!
She competed in her first ever competition (dressage) at the age of 6 yrs, winning her event. From the age of 8 yrs to date, Lisa has been under the instruction of FEI dressage rider and trainer Ms Linda Schmerglatt. Throughout the years Lisa has also undertaken instruction from various other instructors, as well as international Dressage trainers and competitors such as Joern Kubelke to further broaden her skills.
Lisa primarily focused on training and competing dressage horses, regularly adding high point trophies to her collection, up until 1999 where she caught the bug of Show Horse riding after competing in her first Brisbane Royal Show (placing 3
rd
in her Open Lady Rider class).
In 2002 Lisa was selected in the inaugural EA QLD Show Horse Young Riders Squad, receiving further training from Mr. Vince Corvi. This led Lisa to spending a year working for Mr. Vince Corvi and Mr. Terry Cowan in 2003, gaining further valuable knowledge of the show horse industry.
Since then, Lisa has had the opportunity to pilot a number of successful horses to wins at Royal Show and HOTY level in both Open and Hunter events. These include:
Jefferson - Winner Novice 12 Stone Hack Brisbane Royal
Peninsular Park Flaunt – Reserve Champion Hack Brisbane Royal
Harrington Park Envy – Reserve Champion Large Galloway SHCQ HOTY
Torrensway Giggolo – Champion Show Hunter Galloway Toowoomba Royal
Parradidle – Reserve Champion Hack Perth Royal
Inquistion – Winner Ladies Hack at both Brisbane and Toowoomba Royals
Uno – Champion Open hack Toowoomba Royal, 2 x Winner Open 10 Stone Hunter Hack Brisbane Royal, Multiple Grand National qualifications
Farleigh Angelique – Multiple Royal Show Champion and Grand National Qualifiers
EBL Quiver – Multiple Royal Show Champion
Hot Shot Henry – Champion Ridden TB at Brisbane Royal
Farleigh Tudor Rose – Champion Large Galloway Far North QLD Hack Championships
Her success has continued in riding class events, having been sashed Champion Adult Rider 4 times at EQ HOTY events and 6 times Champion at SHCQ HOTY. She has regularly placed in the top 3 in her riding events at Royal Shows across 4 states of Australia and has been awarded Champion Lady Rider at Brisbane Royal Show as well Reserve Champion Lady Rider on 2 other occasions. In 2016 Lisa was crowned the Show Horse Council of Australasia Grand National Champion Adult Rider over 30 years.
Lisa is challenged by bringing on new horses and thoroughly enjoys retraining racehorses to become successful performance horses. To date she has never had the opportunity and privilege of buying a pre-performed horse, they have all come to her green and in need of a lot of work. She has had a very high strike rate with producing Newcomer/Rising Star winners. Lisa has also been influential in the starts of the careers of a number of other horses that have gone on to success at the top levels with new owners. Janevelyn Moment of Truth and Farleigh Tarquin are 2 notable examples.